I've been noticing a very negative attitude towards City lately and people seem to be getting more and more frustrated about it. Shocked at the amount of money being chucked around by Sheikh Mansour people vent their frustrations in just about any way they can, but of course mainly on the most popular rage-outlet... the internets.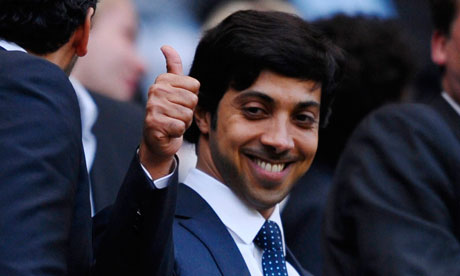 Mansour recklessly giving the thumbs up to just about everyone and everything.
Now of course it's understandable people are angry with the way this club is buying their way to the top but it seems to be some kind of extremely arbitrarily way of judging clubs for their expenses and the way they conduct themselves in the transfer market. Because really. Are people really that naive? Isn't it just a pure fact that clubs need to spend insane ammounts of money to compete at a top level? Or is it just a coincendence that most top team have huge debts crushing down on them, and that most top teams nowadays were taken over by wealthy entrepeneurs in the 60's, 70's, 80's and 90's. The only difference is that those entrepeneurs were slightly whiter and slightly more conservative with their expenses. You can deconstruct just about any top club in Europe this way. The football half-gods of Barcelona used to be an expensive bunch of players thrown together on the pitch. After they pursued Cruyf's plan to focus on youth which resulted in the masterful total football which has been seen at Camp Nou for the last 4 or 5 years. But still ridiculous ammounts of money is being spent to bring in extra players. Just look at the huge fees which have been paid for the likes of Ibrahimovic, Villa, Fabregas and Sanchez. This also shows what sort of short-time memory dictates the general attitude in football. A team like Olypique Lyon is now considered as the top team from France. But people tend to forget it was a rich businessman who took over the club at the end of the 90's and led them to 8 consecutive league titles after an eternity of obscurity and mid-table performances. Of course Real Madrid were one of the first to start buying foreign players for big fees and have always kept wealthy oil magnets close by. Same goes for a club like Inter which has found the ideal partner in Massimo Moratti. And who could forget Milan with probably the most succesful crime boss ever, Silvio Berlusconi. People even seemed to have forgotten the whole Abramovic story. You'll hear things like "yeah but with Chelsea they were trying to build a team, city are just buying everyone" but this is the same with City, only they're going for the top top players exclusively. People seem to forget massive ammounts have been spent on facilities and scouting too. And that the choice for Mancini is actually a pretty justifiable one. Because the road to the top is a hard and long one and Mancini is taking a strictly result based route to get there. Strengthening the squad along the way it may seem baffling for outsiders seeing the likes of Dzeko and Balotelli on the bench but this will benefit the team in the long run. As the club settles into its position at the top it will have the room to create an own identity on the pitch. So my advice is to switch your hate to Manchester United because they always seem to score in extra time which makes it a great team to hate.